Are you familiar with KBIS? While there isn't a red carpet, the Kitchen Bath Industry Show is essentially the Oscar Awards of their domain.
KBIS is the continent's largest trade show devoting attention to kitchen and bath design elements. Alongside the National Kitchen & Bath Association (NKBA), KBIS provides an immersive platform to highlight the best up-and-coming products, services, and ideas from within the industry. KBIS is the place where trends take hold. Each year, find the show in Las Vegas, Nevada. The 2023 show was held Jan 31 – Feb 2 at the Las Vegas Convention center. There was a lot to see and enjoy this year.
You may even discover your next kitchen or bathroom design idea from the list of 2023's award-winners.
The Best of KBIS 2023
Each year, KBIS names winners in various categories, some of which we highlight below. Of course, we also think that all of these winners will pair nicely with stones such as granite, quartz, and marble once installed.
Baveno Kitchen Sink System by BOCCHI
KBIS Winner: Kitchen Gold; Best of Show
BOCCHI specializes in producing high-quality kitchen and bathroom fixtures. (They even make a Granite sink). The Baveno Kitchen Sink System offers a comprehensive set of accessories and features. These features can be added to the sink, including cutting boards, colanders, and various sink grids. This versatility provides customers with a variety of options to personalize their sinks to meet their specific needs. Ideal for upgrading a small kitchen area with scant counter space.
The "Baveno" in the name refers to the town of Baveno, Italy. BOCCHI prides itself on using high-quality materials and traditional craftsmanship techniques. They produce durable, beautiful, and functional sinks that can withstand the demands of everyday use.
inFINE Column Shower by S.G. SRL
KBIS Winner: Bath Gold; Impact Award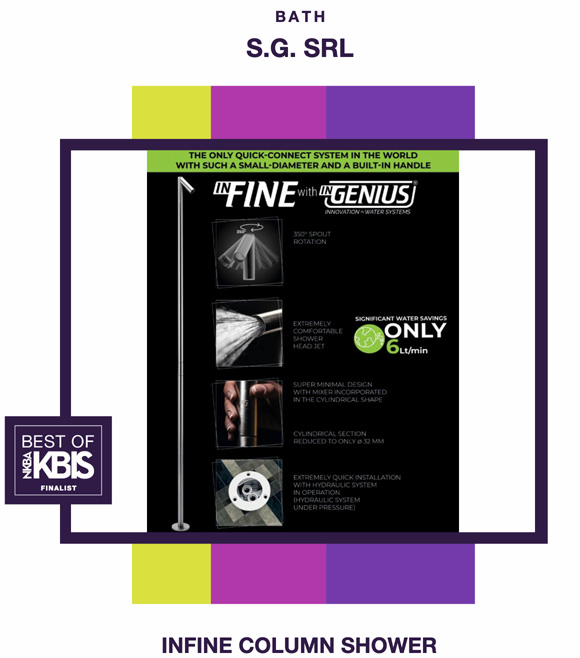 S.G. SRL is an Italian company that specializes in bathroom fixtures. The inFINE Column Shower is a sleek and modern shower system that provides a spa-like showering experience with its advanced technology and unique features. Characterized by its slim, minimalistic design, which allows it to blend seamlessly into any modern bathroom decor, the inFINE Column Shower features a variety of innovative technologies, including a handheld showerhead and a set of body jets that can be adjusted to create a personalized shower experience
The inFINE Column Shower also includes thermostatic controls that allow you to set and maintain a consistent water temperature. This feature is handy for families with children, as it can help prevent accidental scalding. The award-winning devices effortlessly complement natural stone varieties often used in bathroom shower design.
36-inch Touch Control Induction Cooktop by GE PROFILE
KBIS Winner: Connected Tech Silver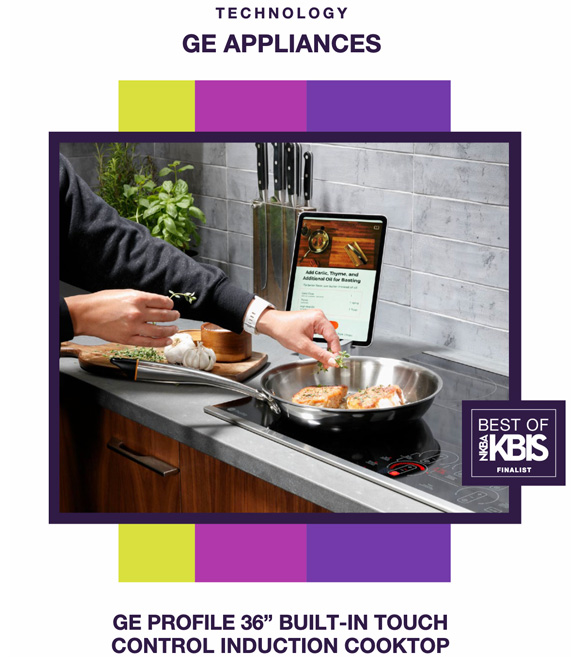 The 36-inch Touch Control Induction Cooktop is a high-end kitchen appliance manufactured by GE PROFILE. This division of GE specializes in premium appliances. As the name suggests, the cooktop uses induction technology to heat food. Induction is a faster, more efficient, and safer cooking method than traditional gas or electric stovetops.
The cooktop features four heating elements. This includes two 7-inch elements, one 8-inch element, and one 11-inch element. The cooktop provide a range of cooking options for different pot and pan sizes. The cooktop also features a "SyncBurners" feature. SyncBurners allows you to control two elements simultaneously, making it easier to cook with larger cookware.
One of the standout features of this cooktop is its built-in WiFi connectivity. This allows you to control the cooktop from your smartphone or tablet using the GE Appliances Kitchen app. This feature also enables you to monitor the cooktop's status, receive alerts, and even preheat the cooktop remotely.
The Abstra Collection by Kohler WasteLAB
KBIS Winner: Bath Silver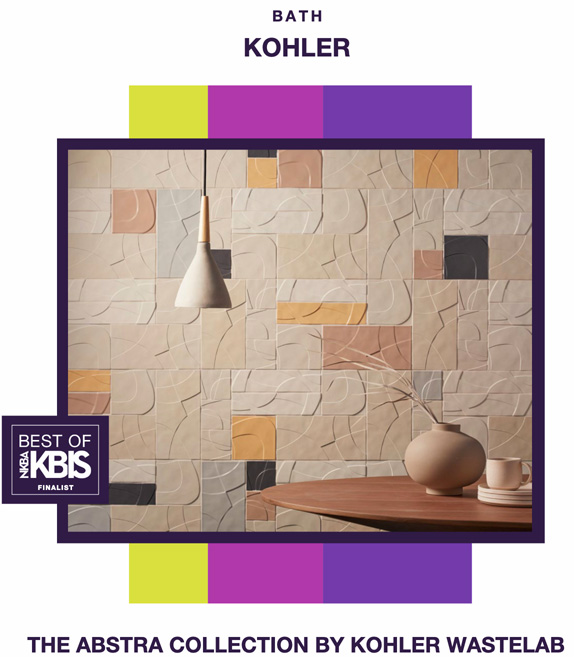 The Abstra™ Collection by Kohler WasteLAB™ consists of bespoke brushed and matte tiles, handcrafted by Kohler WasteLAB from nearly 100 percent recycled waste materials procured from the Kohler, Wisconsin manufacturing facilities. The Abstra Collection evokes the appearance of carved or sculpted clay with two different styles from which to choose. These works of art lend visual and textural nuance that Kohler says is sensual and engaging.
In addition to their aesthetic appeal, the Abstra Collection fixtures are also environmentally friendly. By repurposing the glaze waste material, Kohler WasteLAB reduces the amount of waste generated during manufacturing. Therefore, they minimize their environmental impact.
FOTILE Inser Self-Adjusting Range Hood
KBIS Winner: Kitchen Silver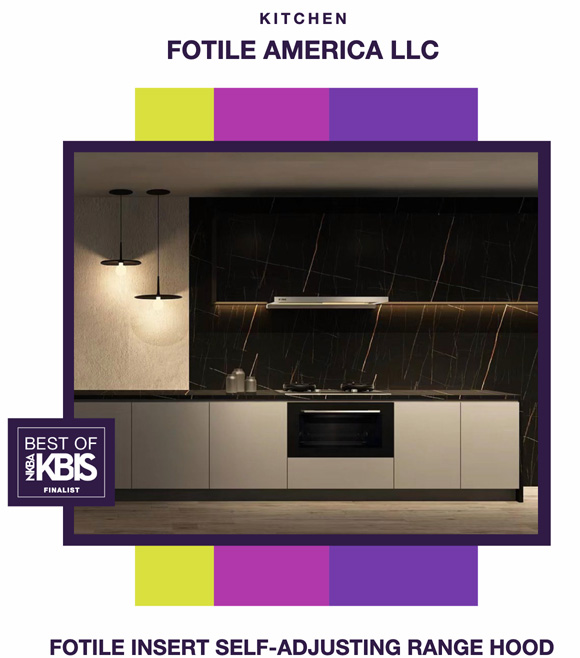 The FOTILE Inser Self-Adjusting Range Hood is a high-end kitchen appliance. It is designed to improve air quality and ventilation in the kitchen. The award-winner was designed to be inserted into custom cabinetry.
One of the standout features of the FOTILE Inser Range Hood is its self-adjusting technology. The hood is equipped with sensors that automatically adjust fan speed based on the heat and smoke generated during cooking. This ability ensures that the range hood always operates optimally to remove smoke, steam, and cooking odors from the kitchen. The range hood also features a "silent mode" that reduces noise levels to a whisper-quiet 34 decibels. It is ideal for open-concept kitchens or homes where noise is a concern.
In addition to its advanced technology, the FOTILE Inser Range Hood is also easy to clean and maintain. It features a detachable, dishwasher-safe filter that can be easily removed and cleaned. The range hood also has a "delayed shut-off" feature that keeps the fan running for an additional ten minutes after cooking is finished, ensuring that any remaining smoke or odors are removed from the kitchen.
Inspiration for Updating Your Kitchen
At Stone Central, we love paying attention to the KBIS awards because they're always inspiring. Stone Central offers expert guidance and craftsmanship when you're looking to create a moody primary bathroom, a zen-sational outdoor sanctuary, or a striking cosmopolitan kitchen (and anything in between). Reach out today to start turning your kitchen and bathroom design ideas into realities.
TO LEARN MORE:
To learn more about natural stone, or the Stone Central team, visit our website at StoneCentralSC.com
– Bonni