Full Height Backsplashes – Pros, Cons and Options
Full height backsplashes are underestimated design elements. There, we said it. Traditional backsplashes will certainly do the trick. However, a piece of beautiful stone, or tile, covering from countertop to under cabinets is a showstopper. Even more, if you're a cooking enthusiast, will the traditional size actually catch your kind of splashes?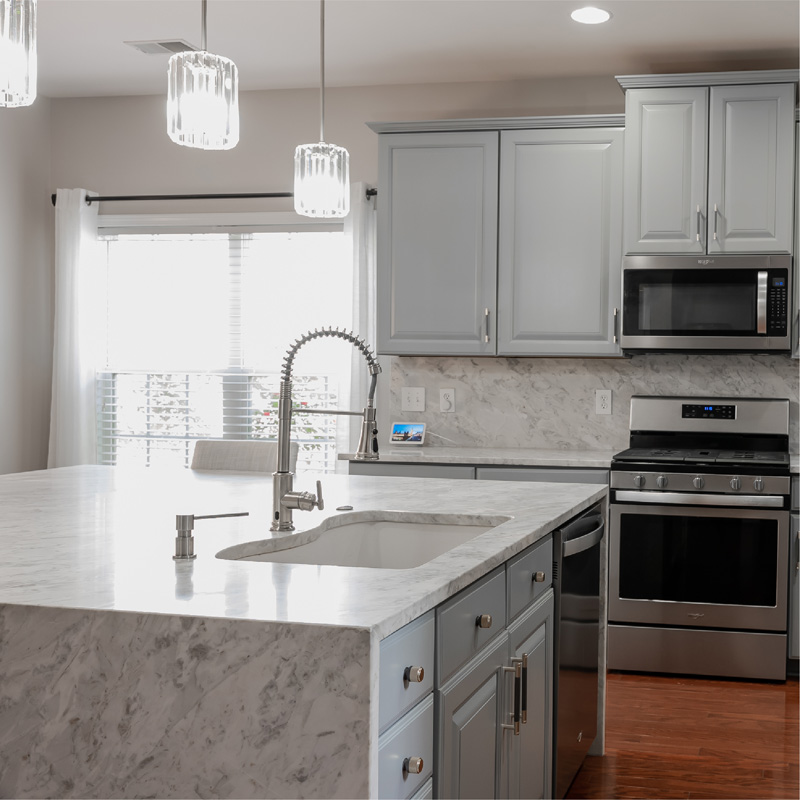 We put together a few pros and cons, and also some options you might not have thought about for this unsung hero of the kitchen.
What is a Full Height Backsplash?
Full height backsplashes are also known as slab or panel backsplashes. This type of backsplash spans from the top of the countertop to the bottom of the upper cabinets. Or they can even span all the way to the ceiling. The material of the backsplash can vary. It can be cut from the same slab as the countertop, be from a different stone, or made from tile. Additionally, full height backsplashes can vary in width. Some may occupy only the space between cooktops and vent hoods, while others may span the entire countertop, and then some. As you can see, there are several options for backsplashes.
What is the Standard Height of a Backsplash?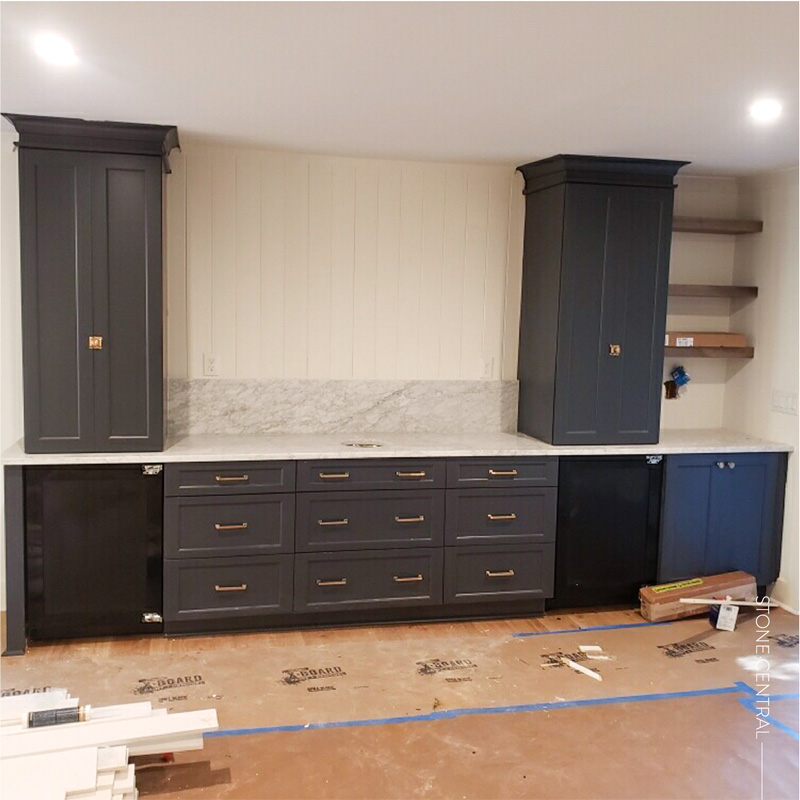 In general, a standard backsplash is installed to be four inches from the surface of the countertop. As of late, however, this height is being overshadowed by 15" installations. These can be made of any material, however, many times they are cut from the same slab as the countertop.
Basic Guidelines for Full Height Backsplash Placement
Now that you know you want a full height backsplash, where should it go? Here are some basic guidelines to give you some ideas:
Ensure that there is a backsplash wherever food preparation will be taking place. Why? Because the main purpose of a backsplash is to protect your walls and to make for easy cleanup.
Install the backsplash between upper and lower cabinets. Ideally, the design of a backsplash will aesthetically connect the two sets of cabinets.
No need to install backsplash behind the fridge. That is, of course, unless you can clearly see the wall behind the refrigerator.
At the very least, a backsplash should span the space be between your cooktop and the hood vent. Starting about 1-2" below the top of the range and to the top of hood vent is ideal. The stove, with all its bubbling sauces and splattering grease is a particularly messy area. A backsplash here makes cleanup much easier.
What if My Upper and Lower Cabinets Don't Align?
We see this in a lot in kitchens, where the upper and lower cabinets do not align. For instance, where the upper cabinets stop several inches or a foot before the bottom cabinets terminate. In this case, we recommend lining up the backsplash with the base cabinets. Another option is to taper the backsplash to gradually 'connect' the top and bottom cabinets. Or, and our favorite, is to line up the backsplash with the base cabinets and install the backsplash up to the ceiling. This option is great for open concept spaces as it helps to establish the start / stop of different zones.
Backsplash Height and Cost
It's true, the higher you go with a backsplash the more expensive it will be. That's because more material and labor is required. If you have your heart set on a full height backsplash, and need to be mindful of cost, stay between the cabinets (instead of going to the ceiling). Tile backsplashes may be less expensive than full height granite, too.
Pros and Cons of Full Height Backsplashes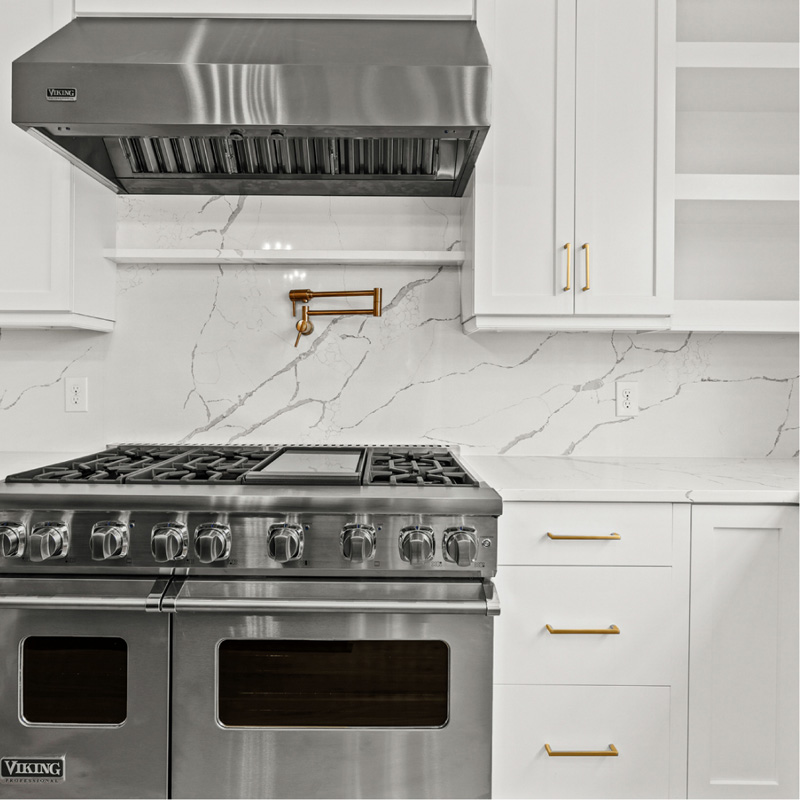 Let's start with some of the minor 'cons' of having a full height backsplash.
They may be more expensive. The standard 4" or 15" backsplash will be less expensive to install than full height. The trade off, however, may be the style, design or overall look you're hoping to achieve.
The thickness of a granite backsplash may encroach on countertop space. If you're in a very small kitchen, a tile backsplash, with a thinner profile, will be a better option.
Stains happen. Granite, tile, and grout can sometimes stain (and require professional cleaning). In particular, foods such as tomato sauce, can leave their mark if not cleaned immediately.
Re-sealing surfaces is important. If the backsplash is granite, the surface will need to be resealed regularly. Also, tile and granite grout and caulk lines should be kept clean and sealed to avoid staining or bacteria growth.
And, of course, the 'pros' of full height backsplashes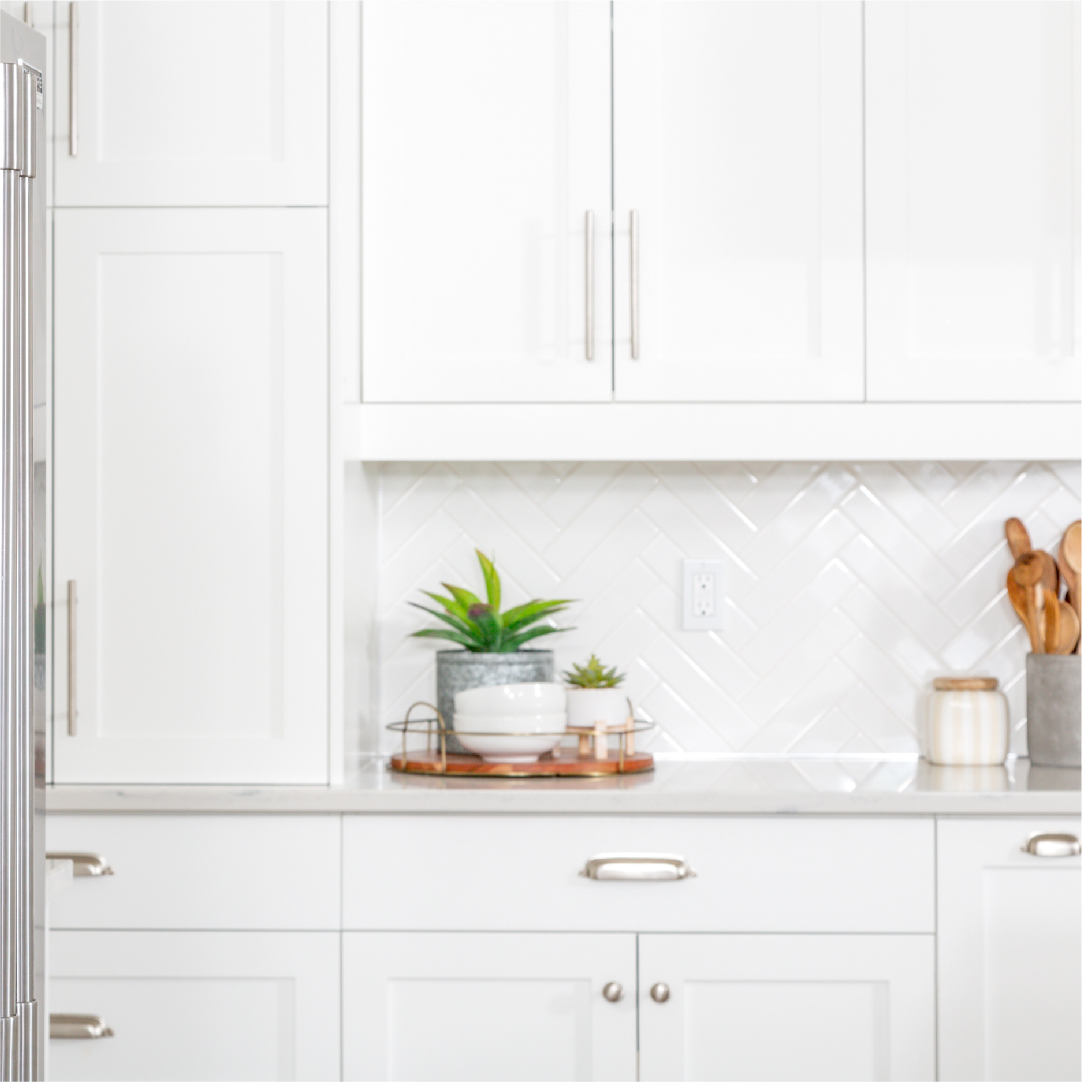 The biggest advantage to having a full height backsplash is that they are stylish. Whether you choose the same stone as your countertop, or glass tiles, or a herringbone tile backsplash, it will make your space look like something from a design magazine.
Easy peezy to clean. Unlike a painted wall, backsplash material responds well to being wiped off. If your backsplash is made of granite, it's helpful to know how to care for granite countertops.
Durability. Granite is a very durable material. Glass and subway tile is also more resistant to damage than painted drywall.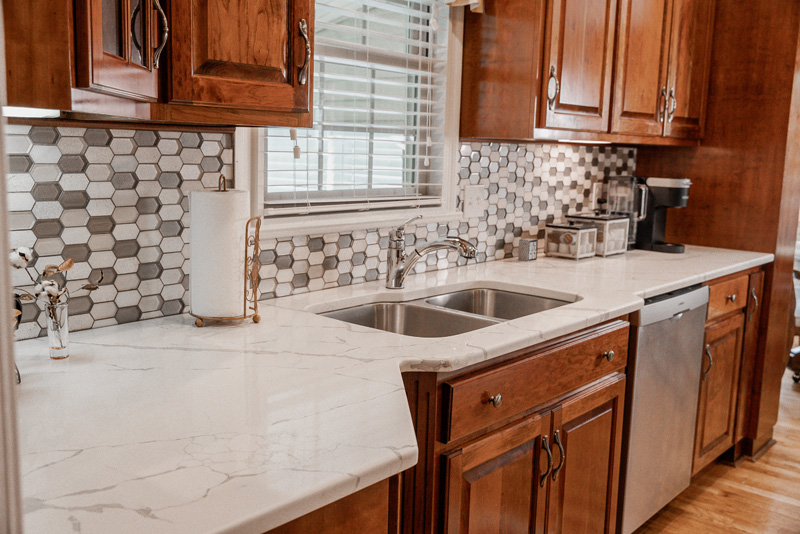 At Stone Central, we're happy to walk through all the options with you for deciding on a full height backsplash. We will help you find what works best for your space and your budget. PS – Did you know that we install backsplashes, too?
TO LEARN MORE:
To learn more about natural stone, or the Stone Central team, visit our website at StoneCentralSC.com
– Bonni
To learn more about natural stone, or the Stone Central team, visit our website at StoneCentralSC.com
– Bonni
– Bonni