There are several factors that affect the out-the-door cost of granite countertops. When it comes to transforming the elegant kitchen or bathroom of your dreams into a reality, few materials evoke the timeless luxury of granite. Adored for its natural appeal, durability, and versatility, granite continues to be a highly sought-after material for those looking to update their home aesthetic.
If you're new to home renovations or curious about which material may be the most cost-effective (without compromising sophistication), this article breaks down the top factors that affect the cost of granite countertops:
Size and Thickness
Color and Pattern
Origin
Installation and Cut-outs
High-End Name Brands vs Other Brands
We'll also share the most up-to-date estimated costs for prized materials like granite, quartz, quartzite, and marble.
These Top Factors Influence the Cost of Granite Countertops (and Other Popular Materials)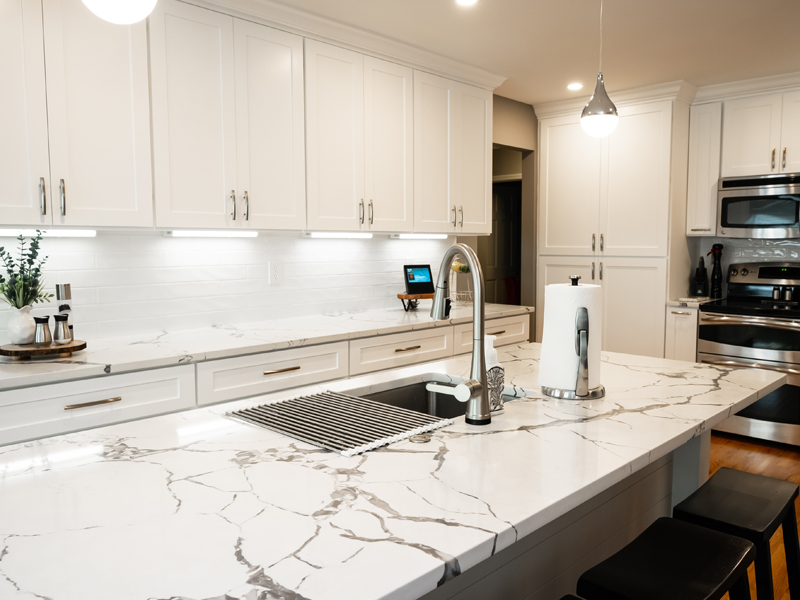 When researching information about new countertops, you'll want to consider the following elements of your stone, regardless of material chosen: size and thickness, aesthetic and design, origin and production, and complexity of the installation process. 
Size and Thickness 
As a rule of thumb, the larger and thicker your slab, the more expensive the cost of granite countertops will be. The reason? Larger slabs require more raw materials to extract and process, and thicker slabs may involve more precise cutting and polishing, equating to higher production costs.
This rule also holds true for quartz, quartzite, and marble, too. As strong and durable as these materials may be, handling them with care during transportation is still essential. Larger and thicker slabs may entail higher labor costs due to the need for delicate handling and specialized installation equipment.
Color and Pattern
One of the most exciting parts of selecting stone options for your countertops is the vast array of colors, textures, and finishes at your disposal. Granite is available in various grades, ranging from commercial to high-end. You'd be correct in assuming that the more distinct a pattern or rare a color your slab is, the more expensive the cost of granite countertops will be.
The finish of a granite slab – i.e., leathered, honed, antiqued, or polished – will also impact the price. You may also see your cost of granite countertops rise if you opt for custom edging, like beveled, ogee, or bullnose styles. The more customized or rare your slab, the higher the cost – that's because these unique embellishments require a deft, meticulous hand (which is likely to save you money in the long run).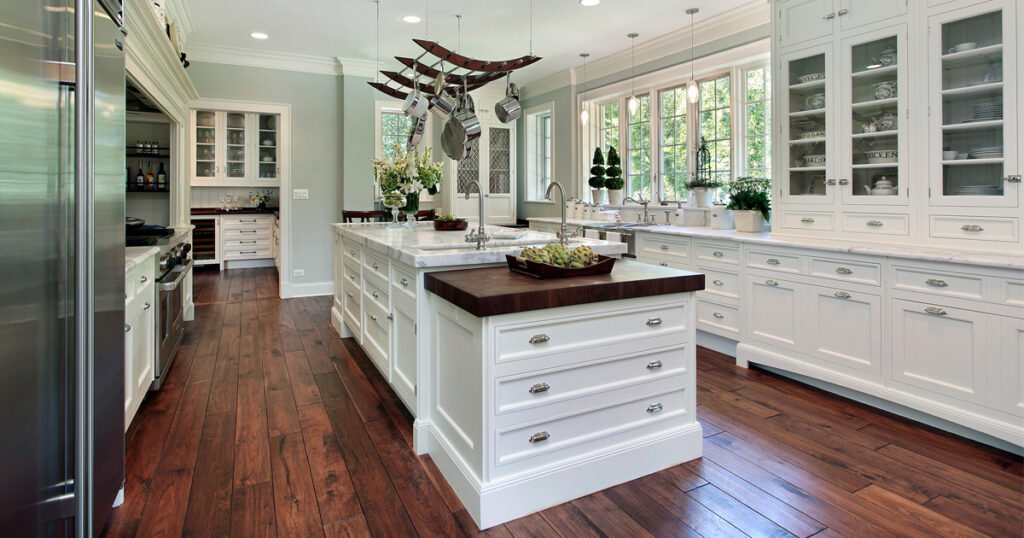 Origin and Production
Where is your granite coming from, and how is it produced? Just as it is with luxury items like a wheel of Stilton cheese, a rare vintage of Châteauneuf-du-Pape wine, or a succulent Wagyu beef steak, the origin of an item can mean a higher or lower price.
Imported natural stone varies and will be predictably more expensive due to shipping and handling costs, while local options may offer an attractive discount. That's not to say that local purveyors or fabricators are "lesser-than" in quality – it just depends on what type of stone you're seeking and where you're having it shipped.
What is involved in the importation process that drives up the cost of granite countertops? In addition to shipping and handling, one must also consider customs duties and market demand. The quarrying conditions in a region may be more or less challenging due to the land's topography and extraction difficulty. It takes highly skilled workers to extricate materials from potentially precarious spots.
Moreover, some granite, marble, or quartz varieties may simply be scarce, with high demand fueling price increases from region to region. Most production encompasses detailed quality control procedures to ensure that each slab meets set standards related to structural integrity and color consistency.
Installation Process / Cut Outs
Finally, the complexity of your particular installation will undoubtedly influence the cost of granite countertops in the long run. The more custom the space where your slab will go, the higher the cost will likely rise.
Experienced home renovators may recall obstacles – plumbing or electrical hiccups or joint issues – that contributed to unanticipated labor costs. These issues may arise with intricate edge profiles, unique sink cutouts, and cooktop surfaces, among other custom designs.
Cleanup is an inevitable part of the installation process, which involves caulking and sealing. Our installers at Stone Central are professionals with years of experience installing granite, quartz, and marble countertops. Therefore, you can count on us to provide accurate estimates for measurements, timelines, and labor costs of installing your countertops.
High End Name Brand vs More Affordable Brands
Whether you select high-end brand names or a more affordable brand, you can expect the same trustworthy performance. For example, the Cambria brand of quartz (for which Stone Central is proud to be an authorized dealer) has long been associated with superb appeal and environmentally sustainable manufacturing; because their quartz is engineered in a controlled environment, they have the advantage of creating mesmerizing patterns that other companies simply cannot replicate. More affordable brands will offer the same quality of stone, however, with fewer color/pattern options.
The Cost Of Granite Countertops in 2023
So you're ready to start your renovation – congratulations! You may have narrowed your material selections to timeless favorites like granite, marble, quartz, or quartzite. As this article suggests, the cost of granite countertops (or other materials) will vary from region to region, and the following prices are only a general rule of thumb for cost, by material, per square foot: 
Granite: $40-$100 
Quartz: $55-$125
Quartzite: $65-$150 
Marble: $75-$250 or higher
If you don't yet know how many slabs you'll need for your project, that's okay! Consider that the average kitchen is approximately 50-60 square feet which is on average between $2,700 – $4,000. 
Materials like quartz, quartzite, and marble may come in at a higher price point.
Takeaway
The wonderful thing about installing any of these most popular stone options is that they are durable, beautiful, and easy to maintain. Able to withstand heat, stains, and scratches, natural stone is also one-of-a-kind – no two kitchens will have the exact slab. Homeowners will also rejoice in the resale value that a stone countertop addition will likely bring to their property.
Curious to learn more about the cost of granite countertops or other varieties in your area? Contact our experts at Stone Central for the most up-to-date factors effecting your upcoming home renovation.
TO LEARN MORE:
To learn more about natural stone, or the Stone Central team, visit our website at StoneCentralSC.com
– Bonni